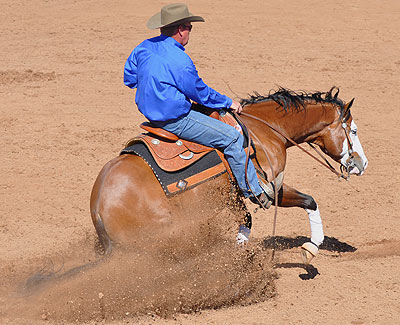 Troy Heikes- Reining Trainer
A respected professional trainer with over $428,000 in lifetime NRHA earning, Troy Heikes runs his training operation out of Outwest Stallion Station. He has made the finals of every major NRHA category 2 event, including the NRHA Open Futurity, the NRHA Open Derby, the NRBC, CRBC, and the AQHA Congress Futurity. Troy also is a multiple APHA World Champion and AQHA World show finalist, and has won the Kansas Sunflower Slide Futurity, the RMRHA Summerslide Futurity, and the CRBC Futurity.
Troy Heikes owned Jacs Electric Spark, an NRHA Open Futurity & Derby Finalist, and NRBC Finalist with over $85,000 in NRHA earnings. In 2012 Jacs Electric Spark passed away. Despite his untimely death, Jacs Electric Spark became one of NRHA's elite Million Dollar Sires in 2012 and his offspring have earned over $1,156,000 as of 1/1/2013.
Troy and his wife Andrea own and operate Heikes Quarter Horses, LLC, and live in Scottsdale. You can learn more at:


Out West Stallion Station & Performance Horses
15419 E. Rio Verde Drive, Scottsdale AZ, 85262
Office: 480-665-6796
contactus@outwestssph.com
© Out West Stallion Station | Photos: Betsy Lynch, John Brasseaux | Website: AxialArts
All Rights Reserved.