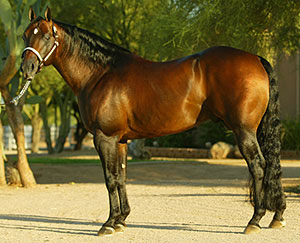 Out West Recent News



Click Here to read an article about Outwest Stallion Station owner Bobbie Cook in the NRHA Reiner Magazine!

2009 High Roller Reining Classic
Nancy and Bill Pohlman of the 707 Ranch in Camp Verde, AZ made the drive to Las Vegas to watch Matt show their stallion Top Gun Tonite. Their trip was well worth it since the pair won the Intermediate Open Derby as well as placing 5th in the Open Derby. Nancy was excited to take home a Bob's custom trophy saddle, a Lawson bronze and a Gist trophy buckle!

Becky Sefton rode a Ruf Hollywood Nite to 3rd place in the Novice Non Pro. She also showed Haidachino Hollywood for the first time.

Ashley Anixter was more than happy with her horse Whizbingbangboom (aka Bingo). She had the high score two days in a row and earned the division blue ribbons in both the Limited and Intermediate Non-Pro. You can see complete details by clicking here.

Matt also guided Ashley's horse to a win in the Open Division. See complete details and photo by clicking here.

Marisa Speidel was happy with the performance of her pretty buckskin mare, No Sass At the Bar. She was in the top 5 of the Non-Pro and Intermediate Non-Pro.




Two New Reminic N Dunits!
Congratulations to Brian Westbrook who recently purchased a gorgeous 3-year old palomino stallion, Dun It For Sugar. Look for Matt to show him at a pre-futurity.
Bill Sefton, RVR Performance Horses, also purchased a striking 3-year old palomino stallion, Rhodes to Riminic who was Open Futurity Reserve Champion and Intermediate Open Futurity Champion at the Rocky Mountain Summer Slide.
Matt would like to thank these owners for purchasing these nice horses. He is looking forward to showing them both at the NRHA futurity.

2009 Denver Summer Slide Futurity
Matt took Hooked On Juice (Smart Like Juice x Taco Chex) to the Open and Intermediate Open Finals. He also rode two offspring from the first foal crop of Out West Stallion Station's Easy Otie Whiz. Easys First Spark (Easy Otie Whiz x Sparkling Radiance) owned by Out West and Easys Lil Darlin (Easy Otie Whiz x Mi Hollywood Darlin) owned by Cam and George Ranzau. Easys Lil Darlin made the Intermediate Open Finals and the Stallion Stakes Finals.




2009 NRHA Derby
Matt scored a 222.5 in the finals aboard Top Gun Tonite (Topgun Whiz x Hollywood Tonite), owned by Nancy and Bill Pohlman of the 707 Ranch, Camp Verde, Arizona. They tied for 13th in the Open division and 4th in the Intermediate Open. Fairly newcomers to reining, Nancy said "We are pumped beyond belief!" Matt also took his wife Karen's horse, Jerry Lee Dun It to both the Open and Intermediate Finals.

2009 Arab Futurity and Cactus Classic
The 2009 show season is shaping up to be both a busy and successful one for Matt Mills Reining Horses.
At the Arabian/Half-Arabian Reining Futurity in Scottsdale, Arizona, Matt took two horses to the finals. He placed in the top 10 on TR Skid Mark and TR Brace For Impack, both owned by Wolf Springs Ranches Inc.
Just weeks after the Arab show wrapped up, the Cactus Classic moved into town, and once again, Matt had a successful show. He won the Open Circuit on Tivitos Shining Star, owned by RVR Performance Horses of Scottsdale, AZ. In addition to his own success, Matt was proud to see youth rider Zach Beals win the 13 & Under Circuit on Splattered.
Ashley Kelkenberg, an assistant at Matt Mills Reining Horses, was also successful at the show, placing third in the Rookie Professional class and also earning a check in the Cactus Classic Derby.
"It was a great show for our barn, and I'm really proud of everyone," Mills said after the Cactus Classic. "This is really starting off to be a good year for us."


2009 Arizona Sun Circuit
Matt Mills won the Junior Reining Circuit Championship on Leans Highlight, a 4-year-old stallion owned by Tracy Bryce and Roberta Fagan.
"It's a great way to start the year off, and that stallion is a talented horse," Matt said after his win. "I really want to thank the owners, Tracy and Roberta, for giving me the opportunity to ride him."
In addition to Mills, several of his clients also finished in the winners' circle.
Ashley Anixter of Scottsdale, was the Novice Amateur Circuit Champion on Whizbingbangboom, winning all four days under all eight judges.
"Ashley really stepped up and did a fantastic job at the show," Mills said. "She's recently made the transition from hunter/jumper classes to reining, and she's a very talented rider. We're proud to have her in our barn."
George Ranzau, another non pro who rides with Mills, took home the title of Rookie Champion on Silk N Hollywood at the Sun Circuit, while Bill Sefton won the Amateur Select Reining on Dun With Caution.
"I'm really proud of everyone in my barn," Mills said. "We had a great show, and I think this is just the beginning of what is going to be an excellent year."




Easy Otie Whiz named the USEF 2006 Open Reining Region 5 Champion!
After winning the 2006 USEF Reining Championships in Kentucky, and helping Team USA win the Gold Medal at the 2006 World Equestrian Games in Germany, Easy Otie Whiz was named the 2006 USEF Open Reining Champion for Region 5!

Matt Mills wins Denver Summer Slide Open Futurity!
Matt Mills rode Chic N Shine, owned by Tom Chambers, to win both the Open Futurity Finals and the First go, earning nearly $8,000!
Assistant trainer Ori Ostrowsky finished 14th in the Open finals on Don Romeo, owned by Allyson Waites. They also were 7th in the Intermediate Open finals and 4th in the Limited Open finals.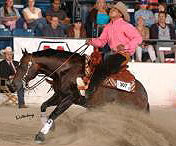 Easy Otie Whiz & Matt Mills Win in Kentucky!
Matt Mills rode Easy Otie Whiz, owned by Outwest Stallion Station, to the 2006 Adequan/United States Equestrian Federation Open Reining Championship on June 26, 2006. Click here for full article...

Easy Money-$75,000 Easy Otie Whiz Breeding Incentive!
Out West Stallion Station & Performance Horses is proud to announce an unprecedented"Cash Incentive" to the highest placing offspring of Easy Otie Whiz at the 2010 NRHA Futurity:
$25,000 to the rider of highest placing offspring of Easy Otie Whiz in the NRHA Open Futurity

$25,000 to the owner of highest placing offspring of Easy Otie Whiz in the NRHA Open Futurity

$10,000 to the breeder of the highest placing get of Easy Otie Whiz

$15,000 to the highest placing rider in the NRHA Non Pro Futurity
For more info on the Easy Otie Whiz Breeders Incentive please click here....or call 888-777-8044.

NRHA Reiner Article Feature
Outwest Stallion Station was recently highlighted in the NRHA Reiner Magazine. Click Here to see the full article by Betsy Lynch.

Easy Otie Whiz + Matt Mills 3rd at AQHA World Show!
Crowd favorites, Easy Otie Whiz and Matt Mills were recently 3rd at the 2005 AQHA World Championship show in Sr Reining. You can read more about their go by clicking here to go to AQHA Coverage.

Matt Mills + Taylor Made Jac are 7/8 at 2005 NRHA Int Open Futurity
Matt Mills rode his own gelding, Taylor Made Jac, to a finals placing of tie 7/8 out of 319 entries. This nice gelding is being offered for sale.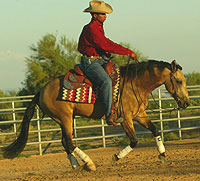 2005 Congress
At the 2005 Congress Reining Futurity, Matt Mills made the Open and Intermediate Open Futurity Finals on Taylor Made Jac, pictured above. He also made the Intermediate Open Finals on Just A Fine Shine, owned by Out West Stallion Station, LLC.

2005 Topeka Sunflower Slide
At the 2005 Topeka Sunflower Slide in Topeka, Kansas, Matt rode Sanjos Lena Nic, sired by Reminic, to win the Int Open Futurity and also place third in the Open Futurity with a 148. This nice mare is owned by C & J Investment Partnership-Joe and Cindy Johnson. They earned over $4,000 for the one go.

Out West Stallion Station & Performance Horses
15419 E. Rio Verde Drive, Scottsdale AZ, 85262
Office: 480-665-6796
contactus@outwestssph.com
© Out West Stallion Station | All Rights Reserved
Photos: Betsy Lynch Stop photo: John O'Hara | Website: AxialArts