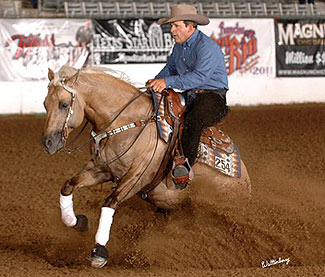 Dan Huss
Dan Huss has proven to not only be one of the industry's top professional trainers, but an extremely successful non pro coach as well. With over $367,000 in NRHA earnings, Dan has earned a multitude of national honors and is an NRHA Open Futurity and Derby finalist, as well as an NRBC finalist. He has garnered futurity and derby championships at major events such as the Scottsdale Classic, Reining by the Bay, and the Cowtown Classic.
Dan's non pro clients have also won impressive titles. Fredrick Christen has been riding with Dan for several years, and has earned titles such as the NRHA Non Pro and Intermediate Non Pro Derby, the NRBC Intermediate Non Pro Derby, and the Reining by the Bay Non Pro and Intermediate Non Pro Derby. Frederick is also a multiple NRHA Non Pro Futurity finalist as well. Another of Dan's non pro riders, Marc Gordon, has won major titles such as the High Roller Reining Classic Non Pro and Intermediate Non Pro Derby, as well as the Scottsdale Classic Intermediate Non Pro Futurity.
Dan and his wife Wendy own Huss Performance Horses, which they operate out of Outwest Stallion Station.You can learn more about Dan Huss by visiting his website:
www.DanHuss.com


Out West Stallion Station & Performance Horses
15419 E. Rio Verde Drive, Scottsdale AZ, 85262
Office: 480-665-6796
contactus@outwestssph.com
© Out West Stallion Station | Photos: Betsy Lynch | Website: AxialArts
All Rights Reserved.